THE TOLE
Neuro Acupuncture and Herbal Medicine Centre
-------------------------------
"FOURTH-GENERATION CHINESE MEDICINE ANCESTRAL FORMULA"

- WIKI TOLE -

Abdominal Pain (lower) in Women
Aspergers Syndrome
Autism and Brain Related
Brain
Brain Memory and Forgetfulness
Brain-Special Kids
The Tole's Chinese Herbal Medicine
Herbal Medicine
Hydrocephalus
Hyperactive Behaviour Special Kids
Knee Injuries
Menopause (Man) - Androgen Deficiency and PADAM
Menopause (Women)
Menstruation (Heavy Periods/Painful)
Neck Pain
Stress
Women Beauty
Women Period Pain
Dato mastertole DSTM

(The Fourth Generation Neuro Acupuncturist and Chinese Physician. )

Allergic contact eczema

Skin hypersensitivity

The cells of the immune system work in various ways in skin disease.
The rash that occurs after being stung by some insects happens within minutes of contact.

It is due to the release of chemicals such as histamine by immunity cells within the skin layers. This is known as 'immediate hypersensitivity'.

Slower acting forms of response by the immune system occur because the population of cells that react against the invading substance or organism (allergen) needs to be built up from a small number of 'memory' cells that recognize the allergen.

Two or three days these cells give rise to others that in turn switch on other defense mechanisms such as the release of chemicals that attract the scavenger cells of the immune system. Because of the lag between initial contact and subsequent reaction, this is called 'delayed hypersensitivity'. The skin reactions underlying allergic contact eczema are of this type.

Common allergens

It is not known why some substances are particularly prone to causing contact allergy, but common culprits are:
nickel - a white metal often used in jewellery, belt buckles, jean studs, metal watch straps, bra fasteners. Many other metals can also cause reactions.
perfumes - Balsam of Peru is a component of fragrances that can cause contact allergy. rubber and related chemicals - shoes and clothing.
potassium dichromate - cement, leather and matches.
hairdressing chemicals (paraphenylenediamine).
medications - lanolin, neomycin (antibiotic), fluidic acid (antibiotic), steroid creams and cetearyl alcohol (used in emollient creams).
epoxy resins - in glues used in hobbies, woodworking and glass fiber construction.
colophony - resin from spruce trees, used in sticking plaster adhesive.
plants - both by direct contact and by contact with airborne particles.
In the food industry a wide variety of foods are known to potentially cause skin reactions. These include:
sugar
flour/dough
citrus fruits and their peel
other fruits and vegetables
spices, herbs, seasonings (eg horseradish, mustard, garlic)
fish and seafood
meat and poultry.
These are the most common of all possible allergens that can cause contact eczema.

Some of the materials known to potentially cause skin reactions are themselves components of common treatments for eczema (eg lanolin in moisturizers and hydrocortisone in steroid creams). Therefore if the condition is worsening or proving resistant to eczema treatment, the possibility that the eczema treatment itself is contributing to the skin problem should be stop immediately.

Actions of contact allergic eczema

Rashes first appear only at the site of skin contact with the allergen. Later it often spreads out and may involve skin well away from the contact site. This is because the immune cells become activated and migrate out through the bloodstream to other parts of the body.

When allergic contact eczema is suspected, it can therefore be important to remember where it first started when taking the medical history behind the development of a rash finding the cause.

Sometimes the cause and effect relationship is obvious, with a red scaly reaction around an earring or under a watch strap. At other times, especially if a long time has passed since the initial exposure and sensitisation , it can be impossible to identified contact allergic from other types of eczema.

It may also be difficulties distinguishing allergic contact eczema (which is an immune response) from irritant eczema (which is a direct skin reaction against an irritant substance). In practice, this difference is not so important because the same lines of treatment are required for both.

Hay fever and perennial allergic rhinitis

Hay fever or seasonal

allergic rhinitis

, is an

allergic

reaction to airborne substances such as pollen that get into the upper respiratory passages - the nose, sinus, throat - and also the eyes.

Hay fever is the most common of all the allergic diseases - about 15 per cent of the population in industrialized cold countries suffer from this condition. Symptoms usually appear in childhood first and then lessen by the age of 30 or 40.

Perennial allergic rhinitis is a similar allergy that occurs all year round and is caused by things such as house dust, mites and pets. However the predominant allergen changes from time to time.

: Frequent sneezing is characteristic of hay fever.

Different microscopic substances get into the nose and cause the body to produce antibodies and release histamine.

Histamine irritates the upper respiratory passages, making them swell and producing the typical hay fever symptoms.

A tendency to suffer allergies is often hereditary. The most common causes of hay fever are:
tree pollen such as elder, elm, hazel and especially birch (spring hay fever).
grass pollen (any flowers, plant or trees).
mugwort and hybrids such as chrysanthemum (autumn hay fever).
house dust mites and mould fungus - particularly associated with perennial allergic rhinitis.


Allergic Rhinitis Symptoms

Itchy and watery eyes
Frequent sneezing, runny nose
Itching on the roof of the mouth
Coughing
Wheezing or a burning sensation in the throat.


Cause hay fever

The pollen to which you are allergic.
Genetic predisposition associated with other a topic diseases, eg eczema or asthma.


Please feel free to contact or email us for further details at :

THE TOLE ACUPUNCTURE & HERBAL MEDICAL CENTRE SDN BHD.

Lot 2.01, 2nd Floor,
Medical Specialist Floor,
Menara KH (Menara Promet),
Jalan Sultan Ismail, 50250 Kuala Lumpur.
Malaysia

Tel No : 603-21418370 / 603-21451671
Whatsapp (only): 6012-7688284


Sending of Herbs and Herbal Medicine are Available to all Countries. PROCEDURE:-

Intensive Herbal and sending of Herbal Medicine are Available to all Countries. PROCEDURE:-

1. E-mail to us with all your medical reports ,
2. Then we will advise you on the herbal preparation and or come for the intensive Neuro Acupuncture,
3. After we have your total conditions picture then you can bank in the money and then we will courier the medicine herbs to you.
It will takes about 3 to 5 working days.

Then we can guide you from here with e-mail, you have to update us on your progress.

Please use Online Transfer

Bank name : Ambank (M) Berhad .
Bank account name : The Tole Acupuncture-Herbal Medical Centre Sdn Bhd

* please email to us request for more details.
| | |
| --- | --- |
| | |
| | |
| | |
| | |
| | |
| | |
| | Share us with your friends. |
| | They may need our assistance! |
The Tole Officially Opened by our Health Minister.
- Alternative Centre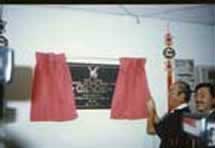 The above picture is taken during the New Medical Centre Opening Ceremony by our Health Minister YAB Dato. Lee Kim Sai in 1993 January 31st.
Contact Us
THE TOLE
ACUPUNCTURE-HERBAL MEDICAL CENTRE SDN BHD
Lot 2.01, 2nd Floor, Medical Specialist Floor, Menara KH (Menara Promet), Jalan Sultan Ismail, 50250 Kuala Lumpur
Tel: 603-21418370
603-21451671
Whatsapp (only): 6012-7688284
* E-mail consultation with Master and Assistant.
Ask by e-mail
Accommodation

CONDOMINIUM