THE TOLE
Neuro Acupuncture and Herbal Medicine Centre
-------------------------------
"FOURTH-GENERATION CHINESE MEDICINE ANCESTRAL FORMULA"

- WIKI TOLE -

Abdominal Pain (lower) in Women
Aspergers Syndrome
Autism and Brain Related
Brain
Brain Memory and Forgetfulness
Brain-Special Kids
The Tole's Chinese Herbal Medicine
Herbal Medicine
Hydrocephalus
Hyperactive Behaviour Special Kids
Knee Injuries
Menopause (Man) - Androgen Deficiency and PADAM
Menopause (Women)
Menstruation (Heavy Periods/Painful)
Neck Pain
Stress
Women Beauty
Women Period Pain
Hydrocephalus
What is Hydrocephalus?
Hydrocephalus means "water on the brain", hydrocephalus is one of the most frequent pediatric neurosurgical disorder. In reality most cases of hydrocephalus represent a build up of spinal fluid inside the brain. Everyone produces spinal fluid inside their brains every minute of their life. The brain fluid is very similar to the liquid portion of blood and contains various salts, sodium and glucose. The fluid is primarily produced in connected chambers within the brain known as ventricles. For adult the fluid pruduce maybe about one pint per day. Brain fluid then circulates through the ventricles and around the brain and spinal cord inside the head. Eventually it is reabsorbed over the surface of the brain into large veins which carry the fluid back to the body. The spinal fluid production, flow and absorption maintains a protective environment to the nervous system. There is no loss of fluids or the salts contained in the spinal fluid.
Hydrocephalus is when something has occurred to prevent this orderly procession of events. When this occurs, there is a relative build up of brain spinal fluid in the brain which can lead to injury or even death if not treated. It is very important to realize that hydrocephalus is the result of some event on the nervous system and brain development.
Please feel free to contact or email us for further details at :
THE TOLE ACUPUNCTURE & HERBAL MEDICAL CENTRE SDN BHD.
Lot 2.01, 2nd Floor,
Medical Specialist Floor,
Menara KH (Menara Promet),
Jalan Sultan Ismail, 50250 Kuala Lumpur.
Malaysia
Tel No : 603-21418370 / 603-21451671
Whatsapp (only): 6012-7688284

| | |
| --- | --- |
| | |
| | |
| | |
| | |
| | |
| | |
| | Share us with your friends. |
| | They may need our assistance! |
The Tole Officially Opened by our Health Minister.
- Alternative Centre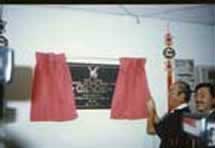 The above picture is taken during the New Medical Centre Opening Ceremony by our Health Minister YAB Dato. Lee Kim Sai in 1993 January 31st.
Contact Us
THE TOLE
ACUPUNCTURE-HERBAL MEDICAL CENTRE SDN BHD
Lot 2.01, 2nd Floor, Medical Specialist Floor, Menara KH (Menara Promet), Jalan Sultan Ismail, 50250 Kuala Lumpur
Tel: 603-21418370
603-21451671
Whatsapp (only): 6012-7688284
* E-mail consultation with Master and Assistant.
Ask by e-mail
Accommodation

CONDOMINIUM