THE TOLE
Neuro Acupuncture and Herbal Medicine Centre
-------------------------------
"FOURTH-GENERATION CHINESE MEDICINE ANCESTRAL FORMULA"

- WIKI TOLE -

Abdominal Pain (lower) in Women
Aspergers Syndrome
Autism and Brain Related
Brain
Brain Memory and Forgetfulness
Brain-Special Kids
The Tole's Chinese Herbal Medicine
Herbal Medicine
Hydrocephalus
Hyperactive Behaviour Special Kids
Knee Injuries
Menopause (Man) - Androgen Deficiency and PADAM
Menopause (Women)
Menstruation (Heavy Periods/Painful)
Neck Pain
Stress
Women Beauty
Women Period Pain
Asperger's Syndrome

Symptoms of Asperger's include: impaired ability to utilize social cues such as body language, irony, or other subtext of communication; restricted eye contact and socialization; limited range of encyclopedic interests; perseverative, odd behaviors; didactic, verbose, monotone, droning voice; concrete thinking; over-sensitivity to certain stimuli; and unusual movements.

Please feel free to contact or email us for further details at :

THE TOLE ACUPUNCTURE & HERBAL MEDICAL CENTRE SDN BHD.

Lot 2.01, 2nd Floor,
Medical Specialist Floor,
Menara KH (Menara Promet),
Jalan Sultan Ismail, 50250 Kuala Lumpur.
Malaysia

Tel No : 603-21418370 / 603-21451671
Whatsapp (only): 6012-7688284

| | |
| --- | --- |
| | |
| | |
| | |
| | |
| | |
| | |
| | Share us with your friends. |
| | They may need our assistance! |
The Tole Officially Opened by our Health Minister.
- Alternative Centre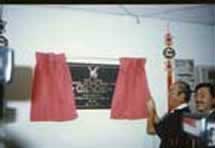 The above picture is taken during the New Medical Centre Opening Ceremony by our Health Minister YAB Dato. Lee Kim Sai in 1993 January 31st.
Contact Us
THE TOLE
ACUPUNCTURE-HERBAL MEDICAL CENTRE SDN BHD
Lot 2.01, 2nd Floor, Medical Specialist Floor, Menara KH (Menara Promet), Jalan Sultan Ismail, 50250 Kuala Lumpur
Tel: 603-21418370
603-21451671
Whatsapp (only): 6012-7688284
* E-mail consultation with Master and Assistant.
Ask by e-mail
Accommodation

CONDOMINIUM