THE TOLE
Neuro Acupuncture and Herbal Medicine Treatment Centre
-------------------------------
"FOURTH-GENERATION CHINESE MEDICINE TREATMENT ANCESTRAL FORMULA"
-------------------------------
A to Z Neuro Acupuncture and Herbal Herbs Medical Treatment
- A -

Abdominal Pain (lower) in Women Treatment
Acne and Skin Ailments Treatment
Acoustic Neuroma Treatment
ADD (Attention Deficit Disorder)
Adenomyosis Treatment
ADHD (Attention Deficit Hyperactivity Disorder)
Adrenal Glands, Adrenal Adenomas, Hypoadrenalism (Kidney)
Age-Related Macular Degeneration ARMD
Alcoholic Liver, Cirrhosis Liver Treatment
Allergies and Eczema Treatment
Alopecia, Androgenetic Alopecia Treatment
Alzheimer's Disease
Anaemia Treatment
Angina Pectoris (Chest Pain)
Antiphospholipid Syndrome (Hughes' Syndrome) APS Treatment
Aplastic Anemia, Blood's Yin Deficiency Treatment
Aspergers Syndrome
Asthma
Atherosclerosis
Autism and Brain Related

---

Bedwetting (Urinary Incontinence) Treatment
Bell Palsy
Bladder Cancer
Brain Coma (Brain Damage)
Brain Memory and Forgetfulness
Brain-Special Kids Treatment
Breast Cancer
Breast Enlargement Treatment
Breast Lumps- Fibrocystic/Fibroadenosis and Breast Cysts Treatment
Bulimia Nervosa Treatment

---

- C -

Cancer and Tumours
Carpal tunnel syndrome Treatment
Chinese Herbal Medicine Treatment
Chondromalacia Patella Treatment
Chronic Prostatitis Prostate Treatment
Chronic Bronchitis - Emphysema and COPD Treatment
Chronic Pancreatitis Treatment
Cluster Headaches
Complex Regional Pain Syndrome Treatment
Costochondritis Treatment
CP Cerebral Palsy

---

- D -

Deep Vein Thrombosis DVT Treatment
Dementia
Development Disorder and Development Delay
De Quervains Tenosynovitis Treatment
Diabetes
Dyslexia

---

- E -

Encephalitis - Brain Damage
Endometriosis Treatment
Epilepsy - Brain Damage
Erythropoietic Protoporphyria Treatment

---

- F -

Frontotemporal Dementia

---

- G -

Gastro-Oesophageal Reflux (Acid Reflux) Treatment
Gout (Podagra or Uric Acid) Treatment
Growth Disturbances Treatment

---

- H -

Haemochromatosis (Liver Inflammation) Treatment
Hair Lost Drop, White Hair Treatment
Heart Attack, Heart Arteries Block
Hemiplegia
Hepatitis (Liver Inflammation) Treatment
Hepatitis B (Liver Inflammation) Treatment
Hepatitis C (Liver Inflammation) Treatment
Herbal Medicine Treatment
High Blood Pressure (Hypertension)
High Cholesterol Level (Hypercholesterolemia) treatment
Hydrocephalus
Hyperactive Behaviour Special Kids

---

- I -

Idiopathic Thrombocytopenic Purpura ITP Treatment
Infertility and Conceiving
Insomnia Treatment
Irritable Bowel Syndrome - IBS Treatment

---

- J -

Jaundice Treatment

---

- K -

Knee Injuries Treatment

---

- L -

Learning Disorder Kids Treatment
Leukemia
Lewy Body Dementia
Liver Cancer
Liver Cirrhosis Treatment
Liver Enlargement Treatment
Low Blood Pressure Treatment
Lung Cancer

---

- M -

Menopause (Man) - Androgen Deficiency and PADAM Treatment
Menopause (Women) Treatment
Menstruation (Heavy Periods/Painful) treatment
Microcephaly
Migraines (Headaches) Treatment

---

- N -

Nasopharynx Cancer
Neck Pain Treatment
Nocturia Treatment

---

- O -

Obstructive Sleep Apnoea OSA Treatment

---

- P -

Pancreatic Cancer
Parkinson's Disease
Polycystic Ovary Syndrome (PCOS) Treatment
Polymyalgia Rheumatica (PMR) Treatment
Pulmonary Embolism Treatment

---

- R -

Rheumatoid Arthritis Treatment
Restless Legs Syndrome RLS Treatment

---

- S -

Schizophrenia
Shingles Virus
Sjogren Syndrome Treatment
Sinus Sinusitis Treatment
Slimming Treatment
Slipped Disc (Backaches) Treatment
Stress
Stroke Treatment

---

- T -

Tennis Elbow (Lateral Epicondylitis) Treatment
Thyroid - Hypothyroidism Treatment
Tinnitus Treatment
Thalassemia

---

- U -

Uterine-Uterus Prolapse, Vagina Prolapse Treatment
Urinary Incontinence Treatment

---

- W -

Whooping Cough (Pertussis) Treatment
Wilson's Disease (Hepaticolenticular Degeneration) Treatment
Women Beauty Treatment
Women Period Pain Treatment

---

- Z -

Zollinger Ellison Syndrome
Zoster
Dato mastertole DSTM

(The Fourth Generation Neuro Acupuncturist and Chinese Physician - Women Period Pain Treatment)

Women Period Pain Treatment

Many women experience pain or discomfort at the time of their periods. For most, the pain or unease is not so severe that it interferes with their daily lives .

Some women their monthly period is problematic and almost disabling because of the pain and inconvenience caused. They may have to take time off from school or work and stay at home for one or two days.

Period pain are only sometimes a sign of others disease, like cyst growth, cold ovary or womb, obstructed Qi flow and others complications .

If period pains are more than an inconvenience then it is wise to take some herbal treatment.

What causes menstrual pains? - Treatment

The natural pains are caused by contractions in the musculature of the uterus. The contractions are caused by the release of the body's prostaglandins, which are hormones produced by the lining of the womb. So when there are abnormal or cold conditions, it will cause pain.

Women Period Pain Treatment of THE TOLE

Usually it is enough just to avoid taking all the cold element food and drinks. When the pain is persistence you have to take our special " Period Herbal Medicine" . It will smoothen the Qi flow in the womb and uterus and warming the organs. It will strengthen the total Qi energy in your body giving you strength and energy in your daily life. IT usually takes 30 to 60 days for good recovery from the Problem

Pelvic inflammatory disease - Treatment

Pelvic inflammatory disease is an infection that passes from the vagina through neck of the womb (cervix), the womb (uterus) and up to the Fallopian tubes. The ovaries are sometimes also involved. Bacteria and other micro-organisms can find their way through the vagina and the cervix to the internal reproductive organs. A bacterial infection can cause inflammation in these organs and their surroundings. This most commonly occurs in the Fallopian tubes.


Causes Pelvic inflammatory - Treatment

It may result from a termination of pregnancy or following childbirth. Occasionally, it may be as a result of having sex with a new partner or many partners. But often no specific reason can be found

Symptoms - Treatment

It causes tenderness and pain in one or both sides of the lower abdomen. At the same time, it can cause fever and general discomfort. Finally, the infection can be accompanied by heavy, painful periods and sometimes severe brown or even black color vaginal discharge.

Conditions and Treatment

These is known to be " severe dampness" in the vigina , uterus, womb and pelvic. THE TOLE'S HERBAL treatment usually clears up the total dampness in 1 to 6 course of herbal medicine. Each course will last for ten days. After the treatment you will feel good and full of energy.

There will be a straight diet for you ladies depending on your conditions.

Heavy periods (menorrhagia) - Treatment

What are heavy periods?

The correct medical definition of heavy periods is the passage of more than 80ml of blood each period. It is seldom realistic or practical, however, to actually measure the blood loss and so doctors rely on the woman's description of her period.

Periods are considered heavy when:

a woman bleeds for more than 8 to 10 days, or a sudden twice as much as her normal flow, especially if this is repeated month after month. A woman bleeds so much that it is difficult for her to attend her job. She may be forced to plan her holidays and leisure time according to the timings of her period.

the bleeding is continuously so heavy that the woman becomes anemic.
the presence of high numbers of small clots for more than two days suggests heavy periods.
'flooding' describes the sudden, unexpected onset of periods, like a tap is busted , and indicates heavy periods.

Cause of heavy and long menstrual flow - Treatment

Younger women heavy periods are most often due to a temporary hormone imbalance, which eventually corrects itself.

In the years close to the menopause, heavy periods are usually a sign of hormone imbalance.

Possibility of heavy periods being caused by an underlying disease increases with age

Associated with heavy periods: - Treatment

fibroids.
endometriosis.
pelvic inflammatory disease.
polyps of the lining of the womb.
the commonest cause is a condition called dysfunctional uterine bleeding (DUB). This refers to heavy bleeding with cold and weak conditions in the ovary and womb.

In the olden days in villages, there are many cases of died from heavy and non stop menstruation.

Women Period Pain Herbal Medicine Treatment

When the heavy period does not stop you need immediate herbal medicine to stop it. And when the problem is persistence you still need to get our special herbal medicine to balance you conditions.

Regular herbal medicine should be taken after you conditions is over come. It will strengthen your ovary and womb conditions and also tighten your vagina and uterus.

Our Centre has treated all such cases and other complications as well, usually all of them gets treated by our Master Special Women Herbal Medicine and other with our Special Tole's Acupuncture. When you e-mail to us please stage all your conditions and since when did it start. All others medical complications and daily food consumption and routine work. We can then send you the correct tailor made herbal medicine to you. The treatment may be between 1 month to 3 months then all your complications will be gone, we will also give you a simple diet to follow.

Please feel free to contact or email us for further details on our Women Period Pain Treatment:

THE TOLE ACUPUNCTURE & HERBAL MEDICAL CENTRE SDN BHD.

Lot 2.01, 2nd Floor,
Medical Specialist Floor,
Menara KH (Menara Promet),
Jalan Sultan Ismail, 50250 Kuala Lumpur.
Malaysia

Tel No : 603-21418370 / 603-21451671
Whatsapp (only): 6012-7688284


Intensive Women Period Pain Herbal Treatment and sending of Women Period Pain Herbal Medicine is Available to all Countries. PROCEDURE:-

Intensive Women Period Pain Herbal Treatment Cur and sending of Women Period Pain Herbal Medicine is Available to all Countries. PROCEDURE:-

1. E-mail to us with all your medical reports ,
2. Then we will advise you on the Women Period Pain herbal treatment and or come for the intensive Neuro Acupuncture Women Period Pain Treatment,
3. After we have your total conditions picture then you can bank in the money and then we will courier the herbs to you.
It will takes about 3 to 5 working days.

Then we can guide you from here with e-mail, you have to update us on your progress.

Please use TT (Telegraphic Transfer)

Bank name : Ambank (M) Berhad .
Bank account name : The Tole Acupuncture-Herbal Medical Centre Sdn Bhd

* please email to us request for more details.
| | |
| --- | --- |
| | |
| | |
| | |
| | |
| | |
| | |
| | Share us with your friends. |
| | They may need our assistance! |
The Tole Officially Opened by our Health Minister.
- Women Period Pain Treatment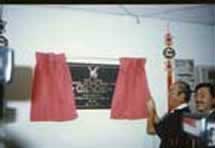 The above picture is taken during the New Medical Centre Opening Ceremony by our Health Minister YAB Dato. Lee Kim Sai in 1993 January 31st.
Contact Us
THE TOLE
ACUPUNCTURE-HERBAL MEDICAL CENTRE SDN BHD
Lot 2.01, 2nd Floor, Medical Specialist Floor, Menara KH (Menara Promet), Jalan Sultan Ismail, 50250 Kuala Lumpur
Tel: 603-21418370
603-21451671
Whatsapp (only): 6012-7688284
* E-mail consultation with Master and Assistant.
Ask by e-mail
Accommodation

CONDOMINIUM FOR ALL PATIENTS