THE TOLE
Neuro Acupuncture and Herbal Medicine Centre
-------------------------------
"FOURTH-GENERATION CHINESE MEDICINE ANCESTRAL FORMULA"

- WIKI TOLE -

Abdominal Pain (lower) in Women
Aspergers Syndrome
Autism and Brain Related
Brain
Brain Memory and Forgetfulness
Brain-Special Kids
The Tole's Chinese Herbal Medicine
Herbal Medicine
Hydrocephalus
Hyperactive Behaviour Special Kids
Knee Injuries
Menopause (Man) - Androgen Deficiency and PADAM
Menopause (Women)
Menstruation (Heavy Periods/Painful)
Neck Pain
Stress
Women Beauty
Women Period Pain
What is a Alzheimer's Diseases?

Deteriorating memory can be the first sign of a treatable disease. Don't accept the diagnosis of Alzheimer's disease before it has been properly diagnosed by a physician.

Alzheimer's disease is the most common type of dementia, affecting over half of all dementia sufferers.

How are people affected? - Alzheimer's Disease

Over time, their mental abilities deteriorate, gradually progressing through forgetting important matters, getting confused about where they are and what day it is, to becoming lethargic and withdrawn and starting to neglect personal hygiene.

The sufferer may tend to dwell in the past and mistake friends and neighbours for long-departed family members. Conversation may become repetitive and the personality may alter as people develop odd or uncharacteristic behaviours.

In the later stages of the illness, sufferers lose insight and may not be aware of their plight, which makes the disease particularly hard for carers to bear.

Does Alzheimer's disease progress?

Alzheimer's disease tends to progress, deteriorate and lead to death within 2 to 15 years. However, the progress of the illness varies a lot between individuals. For some, the illness may progress slowly over many years, whereas for others it may progress rapidly.

A number of other treatable medical conditions can mimic Alzheimer's disease. These include thyroid problems, infections, vitamin deficiencies, depression and anxiety. It is vital that any elderly person who is concerned about whether they may be getting Alzheimer's disease sees their family doctor and receives a full medical assessment.

Never assume that an old person who becomes forgetful will have Alzheimer's disease. For the majority of old people, forgetfulness is simply a nuisance, and some does not develop Alzheimer's disease. But this is the FIRST sign of Alzheimer's disease.

Please feel free to contact or email us for further details at :

THE TOLE ACUPUNCTURE & HERBAL MEDICAL CENTRE SDN BHD.

Lot 2.01, 2nd Floor,
Medical Specialist Floor,
Menara KH (Menara Promet),
Jalan Sultan Ismail, 50250 Kuala Lumpur.
Malaysia

Tel No : 603-21418370 / 603-21451671
Whatsapp (only): 6012-7688284

| | |
| --- | --- |
| | |
| | |
| | |
| | |
| | |
| | |
| | Share us with your friends. |
| | They may need our assistance! |
The Tole Officially Opened by our Health Minister.
- Alternative Centre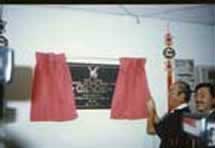 The above picture is taken during the New Medical Centre Opening Ceremony by our Health Minister YAB Dato. Lee Kim Sai in 1993 January 31st.
Contact Us
THE TOLE
ACUPUNCTURE-HERBAL MEDICAL CENTRE SDN BHD
Lot 2.01, 2nd Floor, Medical Specialist Floor, Menara KH (Menara Promet), Jalan Sultan Ismail, 50250 Kuala Lumpur
Tel: 603-21418370
603-21451671
Whatsapp (only): 6012-7688284
* E-mail consultation with Master and Assistant.
Ask by e-mail
Accommodation

CONDOMINIUM