THE TOLE
Neuro Acupuncture and Herbal Medicine Centre
-------------------------------
"FOURTH-GENERATION CHINESE MEDICINE ANCESTRAL FORMULA"

- WIKI TOLE -

Abdominal Pain (lower) in Women
Aspergers Syndrome
Autism and Brain Related
Brain
Brain Memory and Forgetfulness
Brain-Special Kids
The Tole's Chinese Herbal Medicine
Herbal Medicine
Hydrocephalus
Hyperactive Behaviour Special Kids
Knee Injuries
Menopause (Man) - Androgen Deficiency and PADAM
Menopause (Women)
Menstruation (Heavy Periods/Painful)
Neck Pain
Stress
Women Beauty
Women Period Pain
Dato Mastertole DSTM

(The Fourth Generation Acupuncturist and Chinese Physician)

Aplastic Anaemia, Blood's Yin Deficiency

'Aplasia'

means the lack of development of a tissue, cell or other body part.

Aplastic anaemia

is the condition in which the bone marrow fails to produce blood cells. Normally, the bone marrow produces:

red blood cells (which carry oxygen in the blood)
various types of white blood cell (which are part of the immune system)
platelets (which are involved in blood clotting).
These different types of blood cell originates from simpler cells, known as precursors or stem cells, which develop into the more specialised forms.

There are numerous reasons for the bone marrow to fail to produce blood cells in adequate numbers, but in aplastic anaemia there is a marked deficiency of all the precursor cells that should mature into adult blood cells.

Aplastic anaemia is a rare disease with an incidence in developed countries of between 5 and 10 cases per million per year.

In 65 per cent of people the cause of aplastic anaemia is unknown (the technical term is 'idiopathic'). Rarely, the disease is present at birth (congenital). The commonest congenital form is Fanconi's syndrome, but fewer than 1000 cases have ever been described. As well as aplastic anaemia, patients with Fanconi's syndrome have short stature, abnormal skin pigmentation, abnormalities of the bones of their arms and thumbs, kidney problems and an elfin-like appearance. A characteristic abnormality of the chromosomes (random breaks) is seen.

Drugs and environmental toxins

The common of all known cause of

aplastic anaemia

is exposure to drugs or environmental toxins. Benzene was the first known toxin to cause bone marrow failure. Despite this it is still widely used in industry in the manufacture of drugs, dyes, explosives and other chemicals. Exposure should be limited to 1 part per million, but this is often exceeded, especially in developing countries. Other related organic chemicals also cause

aplastic anaemia

, including:

toluene (in glues)

the insecticides DDT and lindane

the explosive TNT

the wood preservative PCP

petroleum distillates.

Drugs that cause aplastic anaemia may also be related to benzene. The antibiotic, chloramphenicol and the anti-inflammatory, phenylbutazone are two examples. Neither is commonly used in Western countries, but because they are cheap to produce, they are in widespread use in the developing world. Other medicines with a moderate risk of aplastic anaemia include gold salts and penicillamine, used to treat arthritis, carbamazepine and phenytoin, used to treat epilepsy, and the diuretic acetazolamide.

A large number of drugs have been associated with occasional cases of aplastic anaemia. Most of these are useful drugs and cannot easily be replaced other then turning to herbal medicine.

Radiotherapy (treatment with X-rays) suppresses the bone marrow, and may be intentionally used to do so in preparation for bone marrow transplantation. The use of these treatments should be confined to specialised centres where careful monitoring of the blood count takes place.

Some cases of aplastic anaemia have occurred after viral infections. In particular, hepatitis A, hepatitis B and 'non-A, non-B, non-C' hepatitis have been implicated, and more rarely the Epstein-Barr virus.

Very rarely aplastic anaemia occurs during pregnancy. It is not clear whether this is just a coincidence. Sometimes the disease recovers spontaneously at the end of pregnancy.

Aplastic Anaemia Symptoms

Patients complain of increasing tiredness, weakness and shortness of breath. Bleeding, bruising and blood spots may be noticed. Sore throats and other infections are noticeable. A high temperature with shivering attacks is an important symptom that demands immediate medical attention.

Aplastic Anaemia diagnosis

The following combination of three symptoms should raise suspicion of bone marrow failure:

anaemia - tiredness, weakness and breathlessness
low white cell count in the blood (neutropenia) - fever, sore throat, shivering attacks
low platelet count (thrombocytopenia) - bruising and bleeding.
When you see pale skin it is possible sign of heart failure, bruises and petechiae (small blood spots in the skin and mouth), mouth ulcers and fever. The back of the eye is likely to see small haemorrhages on the retina.

An important negative finding is the absence of enlarged lymph nodes or an enlarged spleen. Their presence would point to other diagnoses, such as lymphoma or leukaemia.

The most important test is the full blood count, which will show reduced numbers of red cells, white cells (neutropenia) and platelets (thrombocytopenia) - in other words all of the cellular components of blood. This feature is called pancytopenia.

The level of the neutrophil count defines the severity of the disease. Neutrophils are normally the most numerous of the various types of white cell we have in our blood and they are particularly involved in combating infection by bacteria and fungi.
Counts below 0.5 x 109/L mean severe aplastic anaemia.
Counts below 0.2 x 109/L mean very severe aplastic anaemia.

The most important distinction that the haematologist must make is between aplastic anaemia and acute leukaemia, which can show very similar blood pictures. For this reason a bone marrow sample is essential. The doctor will take samples both of the fluid of the bone marrow (an aspirate) and of the more solid bone marrow structure (a trephine biopsy). For most cases the diagnosis is easily made. In acute leukaemia the marrow is full of abnormal cells but in aplastic anaemia it is empty and comprises mainly fat spaces.

Please feel free to contact or email us for further details at :

THE TOLE ACUPUNCTURE & HERBAL MEDICAL CENTRE SDN BHD.

Lot 2.01, 2nd Floor,
Medical Specialist Floor,
Menara KH (Menara Promet),
Jalan Sultan Ismail, 50250 Kuala Lumpur.
Malaysia

Tel No : 603-21418370 / 603-21451671
Whatsapp (only): 6012-7688284


Sending of Herbs and Herbal Medicine are Available to all Countries. PROCEDURE:-

Intensive Herbal and sending of Herbal Medicine are Available to all Countries. PROCEDURE:-

1. E-mail to us with all your medical reports ,
2. Then we will advise you on the herbal preparation and or come for the intensive Neuro Acupuncture,
3. After we have your total conditions picture then you can bank in the money and then we will courier the medicine herbs to you.
It will takes about 3 to 5 working days.

Then we can guide you from here with e-mail, you have to update us on your progress.

Please use Online Transfer

Bank name : Ambank (M) Berhad .
Bank account name : The Tole Acupuncture-Herbal Medical Centre Sdn Bhd

* please email to us request for more details.
| | |
| --- | --- |
| | |
| | |
| | |
| | |
| | |
| | |
| | Share us with your friends. |
| | They may need our assistance! |
The Tole Officially Opened by our Health Minister.
- Alternative Centre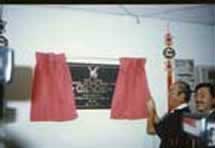 The above picture is taken during the New Medical Centre Opening Ceremony by our Health Minister YAB Dato. Lee Kim Sai in 1993 January 31st.
Contact Us
THE TOLE
ACUPUNCTURE-HERBAL MEDICAL CENTRE SDN BHD
Lot 2.01, 2nd Floor, Medical Specialist Floor, Menara KH (Menara Promet), Jalan Sultan Ismail, 50250 Kuala Lumpur
Tel: 603-21418370
603-21451671
Whatsapp (only): 6012-7688284
* E-mail consultation with Master and Assistant.
Ask by e-mail
Accommodation

CONDOMINIUM