THE TOLE
Neuro Acupuncture and Herbal Medicine Centre
-------------------------------
"FOURTH-GENERATION CHINESE MEDICINE ANCESTRAL FORMULA"

- WIKI TOLE -

Abdominal Pain (lower) in Women
Aspergers Syndrome
Autism and Brain Related
Brain
Brain Memory and Forgetfulness
Brain-Special Kids
The Tole's Chinese Herbal Medicine
Herbal Medicine
Hydrocephalus
Hyperactive Behaviour Special Kids
Knee Injuries
Menopause (Man) - Androgen Deficiency and PADAM
Menopause (Women)
Menstruation (Heavy Periods/Painful)
Neck Pain
Stress
Women Beauty
Women Period Pain
Pancreatic Cancer
What is cancer of the pancreatic gland?
The pancreas is an oblong-shaped organ located deep in the middle of the upper stomach region. Cancer of the pancreas is the result of malignant cell changes, usually in the head of the gland.
The disease is more common in the elderly, and men are more prone to it than women.
What are the symptoms of cancer of the pancreas?
Because the initial symptoms are very faint, cancer of the pancreas is detected usually only at a late stage.
The first symptoms include loss of appetite, a loathing of food and weight loss, though these symptoms may be caused by other factors. Other symptoms that may appear include fatigue, jaundice, vomiting and diarrhoea. Abdominal pain may also be present.
A deep, piercing pain in the top part of the stomach, radiating to the back, may stem from the pancreas, though such pain is often due to much more benign conditions.
Finally, some individuals develop diabetes as a first symptom.
Please feel free to contact or email us for further details at :
THE TOLE ACUPUNCTURE & HERBAL MEDICAL CENTRE SDN BHD.
Lot 2.01, 2nd Floor,
Medical Specialist Floor,
Menara KH (Menara Promet),
Jalan Sultan Ismail, 50250 Kuala Lumpur.
Malaysia
Tel No : 603-21418370 / 603-21451671
Whatsapp (only): 6012-7688284

Sending of Herbs and Herbal Medicine are Available to all Countries. PROCEDURE:-
Intensive Herbal and sending of Herbal Medicine are Available to all Countries. PROCEDURE:-
1. E-mail to us with all your medical reports ,
2. Then we will advise you on the herbal preparation and or come for the intensive Neuro Acupuncture,
3. After we have your total conditions picture then you can bank in the money and then we will courier the medicine herbs to you.
It will takes about 3 to 5 working days.
Then we can guide you from here with e-mail, you have to update us on your progress.
Please use Online Transfer
Bank name : Ambank (M) Berhad .
Bank account name : The Tole Acupuncture-Herbal Medical Centre Sdn Bhd
* please email to us request for more details.
| | |
| --- | --- |
| | |
| | |
| | |
| | |
| | |
| | |
| | Share us with your friends. |
| | They may need our assistance! |
The Tole Officially Opened by our Health Minister.
- Alternative Centre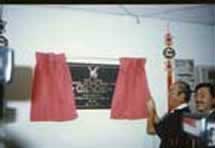 The above picture is taken during the New Medical Centre Opening Ceremony by our Health Minister YAB Dato. Lee Kim Sai in 1993 January 31st.
Contact Us
THE TOLE
ACUPUNCTURE-HERBAL MEDICAL CENTRE SDN BHD
Lot 2.01, 2nd Floor, Medical Specialist Floor, Menara KH (Menara Promet), Jalan Sultan Ismail, 50250 Kuala Lumpur
Tel: 603-21418370
603-21451671
Whatsapp (only): 6012-7688284
* E-mail consultation with Master's Assistant. Ask by e-mail
Accommodation

CONDOMINIUM