THE TOLE
Neuro Acupuncture and Herbal Medicine Centre
-------------------------------
"FOURTH-GENERATION CHINESE MEDICINE ANCESTRAL FORMULA"

- WIKI TOLE -

Abdominal Pain (lower) in Women
Aspergers Syndrome
Autism and Brain Related
Brain
Brain Memory and Forgetfulness
Brain-Special Kids
The Tole's Chinese Herbal Medicine
Herbal Medicine
Hydrocephalus
Hyperactive Behaviour Special Kids
Knee Injuries
Menopause (Man) - Androgen Deficiency and PADAM
Menopause (Women)
Menstruation (Heavy Periods/Painful)
Neck Pain
Stress
Women Beauty
Women Period Pain
DATO MASTER LEONG DSTM

(The Fourth Generation Acupuncturist and Chinese Physician)
Sjogren's Syndrome
Sjogren's syndrome affects an estimated 1 million to 4 million people in the United States and is often defined by its two most common symptoms — dry eyes and a dry mouth.
Yet Sjogren's is more than a symptoms. It's an autoimmune disease that often accompanies rheumatoid arthritis, lupus, scleroderma and polymyositis.
These rheumatic diseases are marked by inflammation of your connective tissues, and it's common for people with Sjogren's syndrome to also have a connective tissue disorder. Sjogren's that results from a rheumatic condition is classified as secondary Sjogren's syndrome. Primary Sjogren's syndrome occurs by itself.
Sjogren's syndrome your immune system attacks healthy tissue. The mucous membranes and moisture-secreting glands of your eyes and mouth are usually affected first, resulting in decreased production of tears and saliva. This can lead to problems from difficulty swallowing (dysphasia) to dental cavities to light-sensitive eyes to corneal ulcers. Damage may also occur to tissues of your lungs, kidneys, Spleen, heart and liver.
Although you can develop Sjogren's syndrome at any age, most people are older than 40 at diagnosis. The condition is nine times more likely to occur in women than in men.
Signs and symptoms of Sjogren's syndrome
Sjogren's syndrome can be difficult to diagnose because the signs and symptoms are similar to those caused by other diseases and can vary from person to person. In addition, the side effects of a number of medications can mimic some signs and symptoms of Sjogren's syndrome. Still, typical signs and symptoms of Sjogren's include:
Dry eyes
Dry mouth
Dental cavities
Fatigue
Low-grade fever
Enlarged parotid glands — one set of your salivary glands, located behind your jaw and in front of your ears
Difficulty swallowing or chewing
Change in sense of taste
Hoarseness
Oral yeast infections, such as candidacies
Irritation and mild bleeding in your nose
Bruising
Skin rashes or dry skin
Vaginal dryness
Dry cough that doesn't produce sputum
Joint pain, swelling and stiffness
Causes of Sjogren's syndrome
Sjogren's syndrome is an autoimmune disorder. The body attacks its own cells and tissues. It's known that your Yin de-efficiency gives rise to dryness and damages your immune system. These factors may be related to heredity, hormones or a viral infection. In the case of Sjogren's syndrome, they cause the over production of white blood cells called lymphocytes, which attack and damage your moisture-producing glands. They can also damage other organs, including your lungs, kidneys and liver in the later stage.
Risk factors
Anyone can develop Sjogren's syndrome , it typically occurs in people with one or more known risk factors. These include:
Having a heaty conditions and rheumatic disease. It's common for people who have Sjogren's syndrome to also have a rheumatic disease such as rheumatoid arthritis, lupus, scleroderma or polymyositis etc.
Being female. Women are nine times as likely as men are to have Sjogren's syndrome.
Being a certain age. Sjogren's syndrome is usually diagnosed in people older than 40.
Having a family history of Sjogren's. Sjogren's syndrome sometimes runs in families.
Please feel free to contact or email us for further details at :
THE TOLE ACUPUNCTURE & HERBAL MEDICAL CENTRE SDN BHD.
Lot 2.01, 2nd Floor,
Medical Specialist Floor,
Menara KH (Menara Promet),
Jalan Sultan Ismail, 50250 Kuala Lumpur.
Malaysia
Tel No : 603-21418370 / 603-21451671
Whatsapp (only): 6012-7688284

Sending of Herbs and Herbal Medicine are Available to all Countries. PROCEDURE:-
Intensive Herbal and sending of Herbal Medicine are Available to all Countries. PROCEDURE:-
1. E-mail to us with all your medical reports ,
2. Then we will advise you on the herbal preparation and or come for the intensive Neuro Acupuncture,
3. After we have your total conditions picture then you can bank in the money and then we will courier the medicine herbs to you.
It will takes about 3 to 5 working days.
Then we can guide you from here with e-mail, you have to update us on your progress.
Please use Online Transfer
Bank name : Ambank (M) Berhad .
Bank account name : The Tole Acupuncture-Herbal Medical Centre Sdn Bhd
* please email to us request for more details.
| | |
| --- | --- |
| | |
| | |
| | |
| | |
| | |
| | |
| | Share us with your friends. |
| | They may need our assistance! |
The Tole Officially Opened by our Health Minister.
- Alternative Centre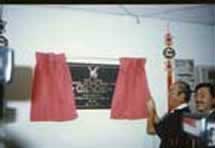 The above picture is taken during the New Medical Centre Opening Ceremony by our Health Minister YAB Dato. Lee Kim Sai in 1993 January 31st.
Contact Us
THE TOLE
ACUPUNCTURE-HERBAL MEDICAL CENTRE SDN BHD
Lot 2.01, 2nd Floor, Medical Specialist Floor, Menara KH (Menara Promet), Jalan Sultan Ismail, 50250 Kuala Lumpur
Tel: 603-21418370
603-21451671
Whatsapp (only): 6012-7688284
* E-mail consultation with Master and Assistant.
Ask by e-mail
Accommodation

CONDOMINIUM